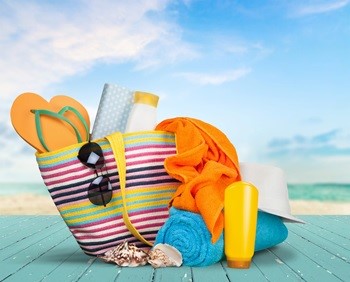 To be fully prepared this summer, have a tote or back pack full of items that will protect your skin.
Here is an easy tip to help make sure you and your family stay sun-safe. Get ready for summer with a tote bag full of different ways to protect your skin. Keep the tote bag handy so you can grab it whenever you head out for summer fun!
Some important things to pack—
A lightweight long-sleeved shirt or cover-up.
A hat with a wide brim that shades your face, head, ears, and neck.
Sunglasses that block both UVA and UVB rays.
Sunscreen with SPF 15 or higher and both UVA and UVB (broad-spectrum) protection.
Please note, the information provided throughout this site is not intended or implied to be a substitute for professional medical advice, diagnosis or treatment. All content, including text, graphics, images, and video, on or available through this website is for general information purposes only. If you are experiencing related symptoms, please visit your doctor or call 9-1-1 in an emergency.