Through voluntary participation, UHC compares its lung cancer screening performance to other facilities nationwide.
These objective comparisons are used to advance our lung cancer screening practice, target specific areas for improvement, implement quality improvement programs, and improve patient care.
Lung cancer is the leading cause of death for both men and women in the United States. Screenings are recommended (and covered by most insurance plans and Medicare) for the following:
Individuals aged 55-80 years,
Current or former smokers, and
Smoking history of 1 pack/day for 30 years or 2 packs/day for 15 years.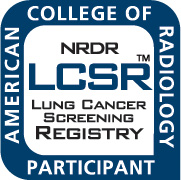 Please note, the information provided throughout this site is not intended or implied to be a substitute for professional medical advice, diagnosis or treatment. All content, including text, graphics, images, and video, on or available through this website is for general information purposes only. If you are experiencing related symptoms, please visit your doctor or call 9-1-1 in an emergency.